Artist's Statement
A fascination with pattern and negative space has always been at the heart of my work in paint.  Lately I distort, disguise, or delete the narrative portion of my paintings and allow myself to  obsess completely on color, repetition and the shapes that occur between objects.
Most of my current paintings are the results of visual puzzles I invent for myself. These brain  teasers are concerned with reflection and reiteration of the positive shapes and negative spaces  of the final images and those in the underpainting.
For many years I loosely designed paintings and then completed them. I reached a point where  I knew how my painting would look before I finished it. This stole the adventure from me. I have  become more immediate and perilous in the act of painting.
As a child in my home near Detroit, I was always coloring and cutting things up. This constant  curiosity and desire to make things led me to earning my BFA from the University of Michigan in  1973.
For a time, I settled in Baltimore, MD where I participated in several group and solo  exhibitions. In the 1980's I embraced motherhood, moved to Pennsylvania, built a house with  my husband and started a picture framing business. By 1991 I had returned to painting and  exhibiting.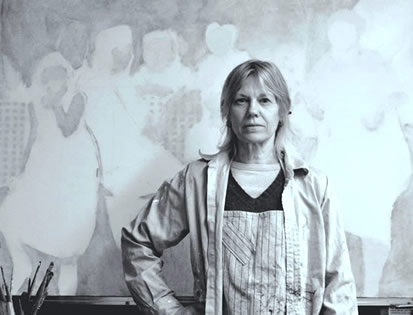 Exhibitions, Grants, and Awards